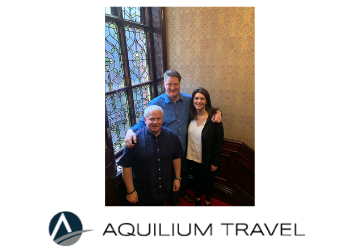 Each month we'll feature our 'Tenant of the month', April is the turn of our newest tentants Aquilium Travel
Hi, we're Aquilium Travel, the newest tenants here at Stapeley House, we are a luxury travel agency providing a first class service that cannot be found by flicking through endless brochures or trawling through the internet.  Aquilium are here to tailor make your travel experience as individual as you.  Whether you are looking for adventure or relaxation, deserted islands or bustling cities, experience them in a truly unique way. Be inspired by our incredible love of travel and over 35 years of luxury travel experience. We are committed to providing the epitome of luxury travel from your initial enquiry all the way through to your return and beyond, we are always on-hand as your personal travel advisors.
Since moving here at the beginning of March we have received a warm welcome from all we have met, Sue and the team have been great.  Not only is the management team extremely welcoming, Stapeley House has excellent on-site facilities such as the board room and the café.  The all-inclusive service is another reason we choose this beautiful building, one monthly payment and no hidden extras! As a company that has big plans for the future, Stapeley House offers us the ability to move into a larger office space without having to worry about losing the facilities we have.
For more information, take a look at our website www.aquiliumtravel.com .